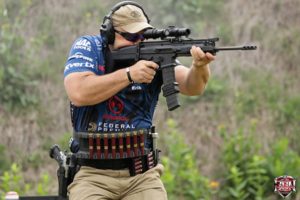 ERIK LUND
Erik Lund began his competitive shooting career in 1994. Erik is ranked as a Grandmaster by the United States Practical Shooting Association (USPSA) and specializes in 3-Gun (Pistol, Shotgun, and Rifle) and Precision Rifle Series (PRS) style competitions. He has several State, Regional, and National level 3-Gun titles to his credit. Erik was a member of Team Sig Sauer in 2009-2011 and FNH's Pro Shooting Team from 2011-2016.
From 2006-2011 Erik was a Senior Firearms Instructor for the United States Shooting Academy (USSA) in Tulsa, Oklahoma. Erik's responsibilities included developing the Rifle, Shotgun, and 3-Gun training programs at USSA. Additionally, he's developed several beginner, intermediate, and advanced courses for pistol, shotgun, rifle, and three-gun competitions, many of which have received critical accolades from several top, nationally ranked competitors. One of Erik's Introduction to USPSA training courses was featured on Shooting USA's syndicated television show "Sighting In." Erik is the author of several articles in both RECOIL and OFFGRID magazines relating to competition equipment, training, and performance. He was featured in an episode of the television show "Shooting Gallery" with Michael Bane, demonstrating some training segments from USSA's, Tactical Rifle 230 program. The Shooting Gallery website also features several additional five minute training segments with him. Erik has also been a featured guest on the "Armed American" Radio and "Ballistic" Radio programs.
Erik has over 24 years Law Enforcement experience with over 22 years as a Firearms Instructor, Defensive Tactics Instructor, Use of Force Instructor, Baton Instructor, and Less Lethal Weapons Instructor. Erik started his Law Enforcement career as a Virginia State Trooper. He was assigned to Fairfax County, Virginia, for 8 ½ years before accepting a position as a Federal Agent. He is a graduate of the Virginia State Police Training Academy (Nationally Accredited) and the Federal Law Enforcement Training Center (FLETC.)
Erik has numerous professional certifications to include, FLETC Certified Weapons Operator, FLETC Submachine Gun Instructor, FLETC Reactive Shooting Instructor, FLETC Search Warrant & Raid Execution Instructor, FLETC Use of Force Instructor, FLETC Active Shooter Threat Instructor, FLETC Non-Lethal Training Weapons Instructor, Georgia Association of Law Enforcement Firearms Instructor (GALEFI) Patrol Rifle Instructor, ASP Baton Instructor, Sig-Arms Certified Armorer, Colt M-16/M-4 Armorer, Benelli Shotgun Instructor Program, FBI Firearms Instructor Development Program, Virginia Department of Criminal Justice Services (DCJS) General Topics Instructor, and Virginia DCJS Pistol and Shotgun Firearms Instructor. Additionally, He has specialized training in the following areas:
One hand shooting techniques
Defensive shotgun
Tactical use of the shotgun
Urban rifle
Advanced urban rifle
Tactical rifle
Low-light tactical rifle
Precision rifle
Sub-machine gun operators course
Tactical sub-machine gun
Low-light officer survival techniques
Close quarters battle (CQB) techniques
Extreme CQB and edged weapon tactics
Erik is a member of the International Association of Law Enforcement Firearms Instructors (IALEFI), The United States Practical Shooting Association (USPSA), GALEFI, and has several years of martial arts experience in Kito-Ryu Jujitsu, Sambo, and Submission Grappling.